MB24 filter + 100l K1 micro + air blower. Upto 8000gallons
£895.00 – £935.00
Description
Additional information
Description
The medium sized model of the Micro beast range, the MB24
600mm diam, max flow 3500gph.
Ponds upto 8000 gallons.
Perfect when coupled with our drum filter for a fuss free Koi pond.
See filtration packages section of website for ideal packages.
The injection moulded filter vessel is pressure rated to 3.5bar. With a 10 year UV and corosion warranty on the tank, and a 1 year warranty on the blower you will have complete peace of mind this item was built to last.
The included air blower means cleaning this filter is quick and easy.
Multi port valve for ease of use.
Includes 100L K1 micro media.
K1 Micro media benefits
Retain more bio film 
K1 Micro retains the bio-film within its wheel shaped structure and  Improved solids handling
A static bed of K1 Micro packs tightly together with areas for solid particles and fines to be captured, helping to reduce TDS levels.
Higher flow rates.
K1 Micro allows enough water to flow evenly through media rather than tracking around a "clump" of beads. This means that flow rates are improved when using "like for like" pumps.
Reduced back pressure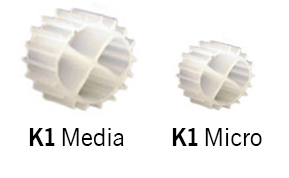 The improved flow also reduces the back pressure or resistance inflicted on the pump. In turn this improves the pumps' efficiency and may even result in the need for a lower rated pump which will ultimately save you money!
Improved cleaning
During a cleaning process, the bio-film remains protected within the K1 Micro.
Semi buoyant media
K1 Micro is a semi buoyant media which makes it ideal for a bead filter.